Work Experience Opportunities
Thames Water & Speakers for Schools – Green Skills Week
Applications close on 7 March for a one day work experience with Thames Water for environmental roles. The work experience would take place on 7 April.
If interested, please email the school office mesoffice@maidenerleghtrust.org for the attention of Mrs M Sandhu, as the school will have to register before you can apply. Further information can be viewed here https://www.greenskillsweek.org/placements
---
Pathways to Property Summer School
Now in its eighth year, the Summer School is a fully funded, 4 day residential programme at the University of Reading for Year 12 students. During the week, students will attend taster lectures, go on site visits, take part in a group project and debate, learn to network with key employers in the industry and experience life on a University campus. All individuals will be provided free accommodation and food and their travel expenses to Reading will be covered. At the end of the week, if they are keen to learn more about property they can complete a funded work experience placement over October half term, have access to our e-mentoring programme, and if they choose to apply to study Real Estate and Planning at the University, can apply for a bursary up to £30,000 over three years. To date, over 600 students have attended the Summer School and 25% of these have chosen to pursue a career in property – either through studying a property related degree at University or completing a property related apprenticeship.
APPLICATIONS FOR THE SUMMER SCHOOL ARE NOW OPEN! The 2020 Summer School will take place from 20-23 July at Henley Business School, University of Reading. Please visit https://www.henley.ac.uk/alumni/support-henley/pathways-to-property for more information.
HSBC Work Experience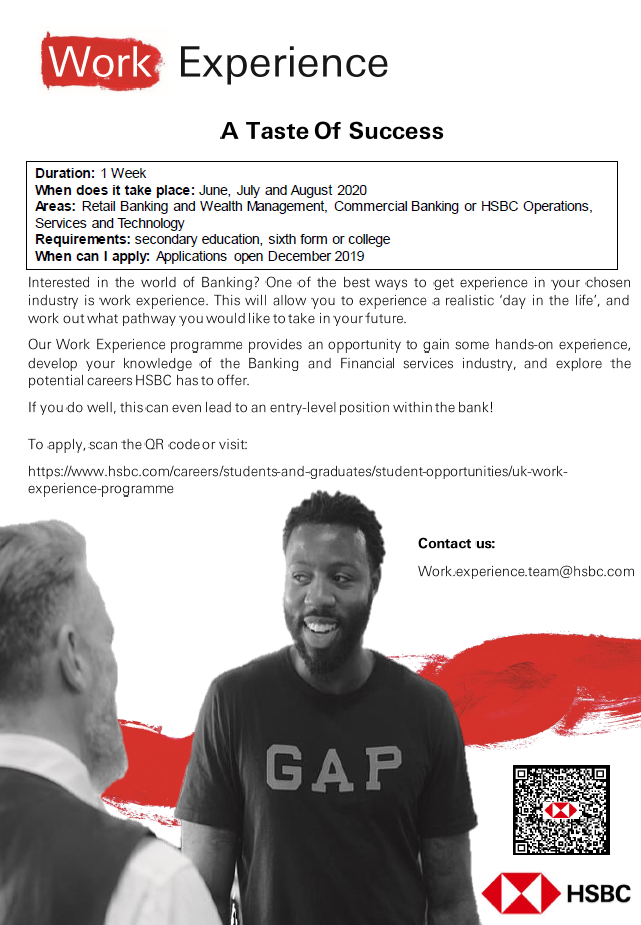 Berkshire Physiotherapy
Berkshire Physiotherapy are welcoming applicants for students in Year 12 & 13 for work experience placements. Each placement would be for 1 week, with a clearly defined role for that time.
Covering letters and CVs can be emailed to Carol Adkins, Director at info@berkshirephysio.co.uk.
https://berkshirephysio.co.uk/
Dentistry at The London School of Dentistry
The London School of Dentistry is running a 2-day taster course for year 11-13 students who aspire to study dentistry at university. The course provides students with a realistic experience of life at dental school by integrating a seminar style approach with a combination of key practical clinical exercises.
Date: January 11 to 12 2020
Time: 9.30am-4pm (both days)
Venue: University of East London (Stratford)
Price: £120 (inclusive of both days)
Please visit www.londonschoolofdentistry.co.uk to apply and for more details and testimonials.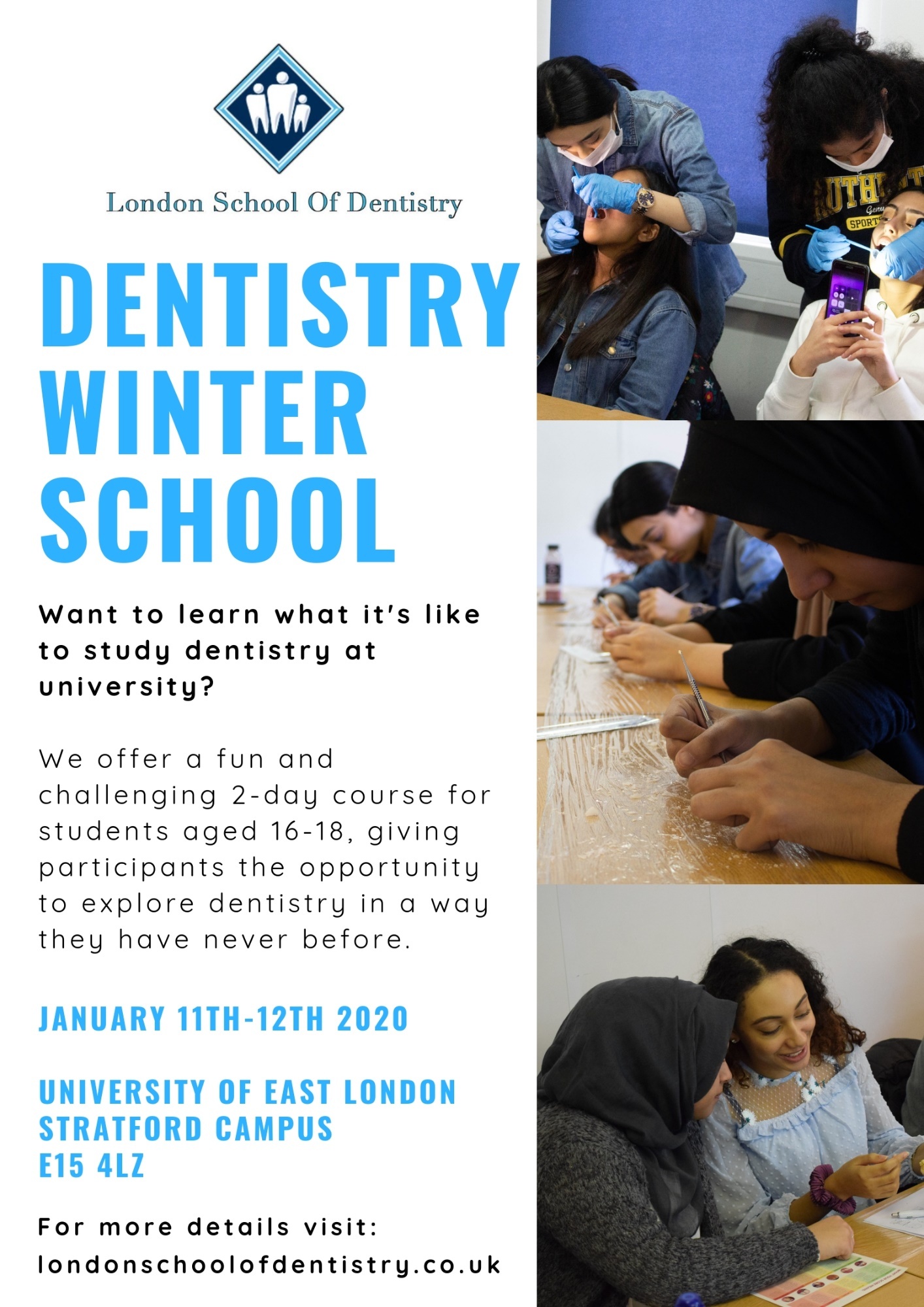 ---
Diamond Light Source - Work Experience - July 2020
Diamond Light Source runs an annual schools work experience programme, offering a limited number of placements to students in years 11, 12 and 13. The placements take place over a specific week, typically in July. Applications for 2020 will open in mid-December 2019 and close at the end of January 2020. Please visit the website below to apply.
https://www.diamond.ac.uk/Careers/Students/Schools-Work-Experience.html
The programme gives students the chance to come and work at one of the UK's leading science facilities for a week. Initially students will receive a day's introduction to Diamond, covering all areas of Diamond and a look around the facility to see first hand how it operates. The main element of the week will be a three day project in a specific area, which students will complete and then present to their peers and other visitors on the final day (friends and family welcome). There will also be a chance to get involved in group activities and time to meet their peers and Diamond staff.
Applicants need to apply for specific projects, see the website for the projects and details of the application process.
The placements are aimed at students in years 11-13 (typically 14-18 years old), although part of the aim of the placement is to give guidance towards further careers or study, so students who have secured a higher education place are less likely to be offered a work experience placement (usually year 13 students).
Please be aware students will be expected to work a full day (9am-5pm) and it is their responsibility to make any travel/accommodation requirements (if accommodation is required we can offer some suggestions).
Students may apply for as many different projects as they wish. The projects are described on the website. To apply please visit the website https://www.diamond.ac.uk/Careers/Students/Schools-Work-Experience.html
---
HSBC Work Experience Programme - For Year 12 and 13 students
For further information on the programmes please see their main page here: http://www.hsbc.com/careers/students-and-graduates/programmes/uk-work-experience-programme.
---
Starmaker Costume Hire
We are looking for a work experience / or day release placement for a young person. We are a Theatre Costume Hire Store in Swallowfield. We are part of the charity called "Starmaker" who are a local drama charity working in schools. Please see Mr Buck for more information.
---
Years 10 – 13: Work Experience Opportunity at a Particle Accelerator near Didcot.
We have received details about a work experience opportunity at the Diamond light source particle accelerator near Didcot. This is open to all students studying GCSEs and A-levels, but is particularly suitable to anyone considering a future career in Physics, Engineering, Biochemistry or Computer Science. See the diamond light source website, or speak with Mr Bell for more details. This is a highly competitive, yet potentially rewarding, opportunity.
---