Apprenticeship Opportunities and Resources
Visit the UK Government website to find out more about apprenticeships https://www.gov.uk/topic/further-education-skills/apprenticeships.
Future 12 Month Placement Scheme - IBM Business and Technology Futures
The Futures Placement scheme offers you an invaluable opportunity to work with a world-leading company for 12-months, broadening your horizons and giving you a head start in your career.

https://successatschool.org/jobscourses?utm_source=Success+at+School+-+Newsletter+Signups&utm_campaign=c95def3369-Success_At_School_Open_Day_021020_COPY_01&utm_medium=email&utm_term=0_65c6d67e71-c95def3369-212015081&goal=0_65c6d67e71-c95def3369-212015081&mc_cid=c95def3369&mc_eid=5562b44d58
UK University & Apprenticeship Search Virtual Fair on Wednesday 4 November (12:00-18:00).
This free event features over 100 universities, colleges, and apprenticeship providers from around the UK, along with 10 interactive webinars, and is aimed at years 13,12 and 11, as well as parents. It will provide your child with all the information they need to make informed decisions about their post-18 options.
Students, parents and carers simply need to register online at: www.ukunisearch-london.vfairs.com
Students and parents can chat directly with a mixture of Russell Group, red brick, and modern universities from around the UK to find out invaluable information about courses, modules and life at university, and discover what admissions tutors are looking for in UCAS applications. Attendees can also speak to colleges and local and national companies about their apprenticeship schemes.
10 interactive webinars will run throughout the day on a variety of university and apprenticeship topics, such as UCAS Personal Statements, Student Finance and Apprenticeships. The webinars are run by university and apprenticeship professionals who will also host Q&A sessions after the presentations. You can view the webinar timetable and presenters list using this link: www.ukunisearch-london.vfairs.com/en/webinar-timetable
Students should aim to register in advance to receive a free event guide, which will explain how the day will work and how both yourself and your child can make the most of the exhibitor interactions. The event guide will also contain lots of articles on topics such as student finance, UCAS applications, extra funding, personal statements and apprenticeships.
Spotlight on EY – Apprenticeships and Business Academy
Launching this year for the first time is our EY Spotlight Series. If you're thinking about an Apprenticeship, we will give you all the information you need, around what we do at EY and the Apprenticeship options available. Different areas of our business will run talks and Q&A's with current EY Apprentices. The Student Recruitment team will deliver sessions on our programmes, the Application Process and Demystifying Apprenticeships. We will also have a session specifically about our Year 12 Business Academy work experience programme.
Date: 5 November, 2020
Time: 16.00 - 18.30
Link: http://bit.ly/EYSchoolsSpotlight
MHA MacIntyre Hudson - School Leaver Training Programmes
MHA MacIntyre Hudson is a top 15 independent accountancy firm that's been around since 1880. They offer School Leaver training programmes in audit, accounts & tax.
They operate in a number of different locations across UK, including Reading, where they work with a vast number of businesses, including agriculture, motor-sport, media & entertainment, property, construction, not-for-profit organisations and more!
A student brochure is attached below. More information is available at https://www.macintyrehudson.co.uk/careers/students/school-leavers
Cisco Apprenticeship Programme
https://jobs.cisco.com/jobs/ProjectDetail/Apprentice-Program-UK/1282038?source=Cisco+Jobs+Career+Site&tags=CDC+SnNG+apprenticeship-program
Vodafone Apprenticeship Evening
Date: 30 March 2020
Time: 5.30pm to 7.30pm
We are excited to invite you to attend our exclusive Apprenticeship evening, to share with you our 2020 Apprenticeship opportunities, and find out more about what we do, and what apprenticeships we offer.
Find out more during our apprenticeship evening, which will include:
A panel discussion with current apprentices and those who have graduated, sharing their experiences on the programme and how their careers have progressed since completing the programme.
A talk from one of our senior leaders in Technology, to find out more about what we do, and how we support and grow our apprentices
Information on our Apprenticeship opportunities and offering
Networking session to ask questions and find out more from those who live our apprenticeships every day
Plus a chance to see first-hand some of the exciting technology we have developed!
Students can sign up with their parents here: https://www.allaboutschoolleavers.co.uk/jobs/job/1887370/vodafone-apprenticeship-evening
Apprenticeship Opportunites at SSE
SSE is involved in the generation, transmission, distribution and supply of electricity, in the production, storage, distribution and supply of gas and in other energy services. The bulk of SSE's operating profit comes from regulated electricity networks and renewable sources of energy, and it is these businesses that are at the core of the Group's low-carbon strategy.
We are currently recruiting for our Apprenticeships in Energy and Trainee Engineer roles.
Trainee Engineer Opportunities – http://www.ssejobs.co.uk/caw/en/job/523294/sse-trainee-engineer-opportunities-2020
Apprenticeships in Energy - http://www.ssejobs.co.uk/caw/en/job/523316/apprenticeships-in-energy
Please note that the closing dates for these is 11pm on Sunday the 15th of March.
We have positions available across the UK and you can view a detailed list of the base locations via the following link: https://sse.com/media/662001/apprenticeship-locations_-v7.pdf
Heathrow Apprenticeships and Careers Show
Heathrow Apprenticeships and Careers Show is a new event taking place during National Apprenticeship Week 2020 at Park Inn, Bath Road, Heathrow UB7 0DU.
Tuesday 31 March | 17:00 – 19:00
This evening is open to the public. Anyone seeking a new opportunity within Team Heathrow is invited to attend, as well as parents of young people who want to find out more about the 10,000 apprenticeships that will be available over the next decade.
Wednesday 1 April | 9:30 - 19:00
Between 9:30 - 15:30 the show is exclusively for groups of school students in Years 11 and above, their career leaders and teachers.
Between 15:30 - 19:00 the show is open to the public once again; anyone seeking a new opportunity and parents of young people.
Wood Lane Dentistry - Apprenticeship and Training Posts in Dental Nursing
Wood Lane Dentistry is a community family dental practice established in August 1969. It offers high quality dentistry to Sonning Common and the surrounding locations. We were finalists in Practice of the Year and Dentist of the Year 2017.
You will be trained to provide dental nursing support to both our general practitioner dentists and also to dentists providing more specialist work such as Implant surgery, Endodontics and Dental Sedation.
Once you have obtained the basics there will also be opportunities to widen your skills and be involved in additional duties.
Why should I apply?
You will receive training leading to a professional qualification.
Once qualified you will be guaranteed employment
Unlike many of your peers you will be paid to earn your qualification.
Call 0118 972 2626 or email info@woodlanedentistry.co.uk
Thales - Apprenticeship Opportunities
Thales is a business where brilliant people from all over the world come together to share ideas and inspire each other. At Thales UK, we research, develop, and supply technology and services that impact the lives of millions of people each day to make life better and keep us safer. We innovate across five major industries; Aerospace, Defence, Ground Transportation, Security and Space.
The opportunities at Thales are as limitless as the boundaries of engineering, science and technology. We're growing all the time and wherever we go and whatever we do, our people grow with us.
Our 2020 Apprentice roles are open now for applications across our engineering and business functions. Applications close on 3rd January 2020.
Our apprenticeship schemes in the UK last between two and four years; applicants can join at a variety of different ages depending on their educational level. We offer advanced, higher and degree level apprenticeships, sponsoring individuals through their degree whilst gaining valuable work experience.
More roles will be going live on our website in the next couple of weeks so please keep an eye out for this.
More details on the application and selection process can be found on our website https://www.thalesgroup.com/en/europe-united-kingdom-career/apprenticeships
Reading Apprenticeships:
---
HSBC Apprenticeship Opportunities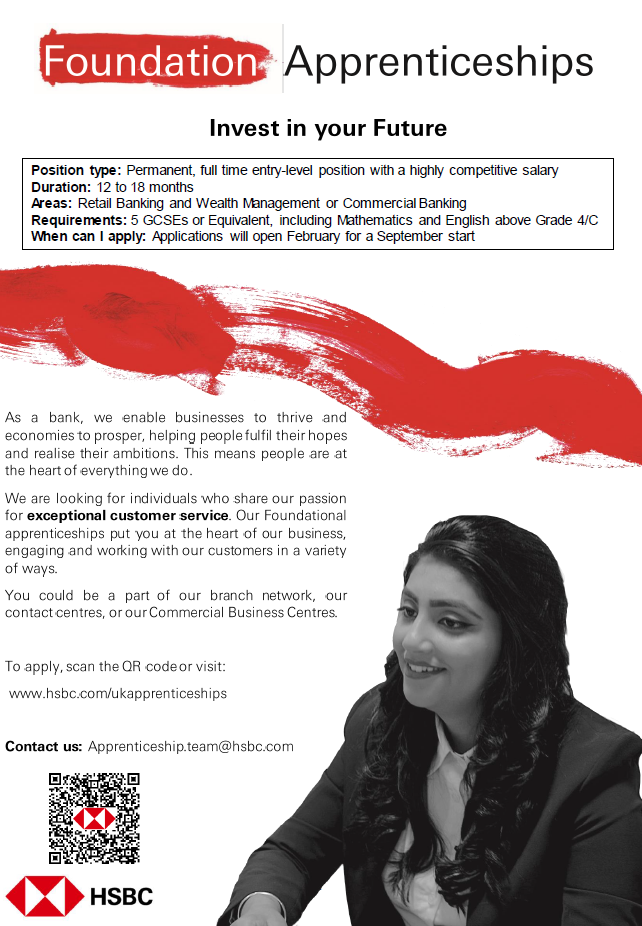 ---
Gillette Engineering Apprenticeships
We'll help you find your feet and then GROW and GROW...
You will join the team that has developed all of Gillette's new products over the last 60 years and will
have the chance to impact the Gillette, Venus and Art of Shaving Brands that are used by hundreds of
millions of men and women all over the world.
You will spend 1 day a week at Basingstoke College of Technology, learning the foundations on which
you'll build for the future, and 4 days a week at Gillette's Reading Innovation Centre learning to use state
of the art engineering technology to produce new prototypes that consumers can touch and use. You will
gain an understanding of the consumer needs and technical challenges in producing new products and
be a key part of designing, developing and manufacturing innovative new solutions.
Initially you will be offered a one-year Intermediate Apprenticeship gaining a City & Guilds NVQ Level 2 in
Advanced manufacturing Machining and L2 C&G Machining Diploma with a possibility of a permanent
role. Further sponsored training up to an C&G NVQ Level 3 Eng. Tech, C&G diploma in Machining (Y2&3)
& HNC in Engineering (Y4&5) over the following 4 years, with an opportunity to progress to a degree
once in permanent employment.
To take advantage of this opportunity you will have gained, or be predicted, 5 GCSEs grade 4-9, including
1 science and at least a 5 grade in Maths. But just as important are genuine enthusiasm, determination
to succeed, a high degree of passion and commitment to developing an engineering career.
To apply go to: www.apprenticeships.org.uk and search under Apprenticeship Vacancies using 'Gillette'
and 'Berkshire' as keywords. Applications must be submitted by 17th January 2020
---
Monday 3 February 2020, 4.30pm to 7.00pm
Monday 15 June 2020, 4.30pm to 7.00pm
As one of the leading providers of Apprenticeships in the region, we are proud to host one of the biggest Apprenticeship events in the South of England.
Our Apprenticeship Recruitment Fair is an opportunity for young people, parents and employers to come along to the College and find out more about how Apprenticeships work.
A wide range of employers will be in our Lower Concourse ready to chat about their vacancies, so we advise those looking for an employer to dress to impress and bring your CV! In March, we hosted over 40 employers in the Lower Concourse with over 300 visitors in attendance.
If you have any questions about apprenticeships, our dedicated team from Aspiral Learning will be available throughout the Fair to answer any questions you may have.
If you think an apprenticeship is the best next steps for you, this is an event you cannot afford to miss!
---
Deloitte Brightstart - Applications now being accepted
Further to the Deloitte Brightstart launch on the 22 November, the application window is now open for all roles to start in September 2020.
The application form can be found in the link below
https://www2.deloitte.com/uk/en/pages/careers/articles/brightstart-business-apprenticeship-scheme.html
---
Deloitte Brightstart - Friday 22 November
Deloitte will be coming into school on Friday 22 November to launch their BrightStart scheme to students in Year 12 and 13. This will take place during tutor time (0840 – 0925) in H10 and will be excellent opportunity for students to attend.
Deloitte will be delivering an interactive activity and then a question and answer session which will give you the chance to ask any questions. In the Q and A session, they will also have a BrightStart there to answer questions too who will be closer in age to you.
The workshop will aim to cover what the scheme involves, how to apply etc. as well as highlighting the following opportunities:
Work experience opportunities;
Our Insight Days;
Our Summer Vacation Scheme that is available to students while they are at uni; and
Our Graduate Scheme
---
Mercedes-Benz Apprenticeship Programme
We recruit and train apprentices for our franchised sites, with vacancies available throughout the whole of the UK. Apprentices train as Light Vehicle, Heavy Vehicle or Semi-skilled Technicians or for those wishing to gain skills in a sales or customer service role we have our Retail Parts Advisor or Customer Service Specialist.
To find out more and make an application, visit www.mercedes-benztraining.co.uk/apprenticeships and view the flyer here.
We are particularly looking to promote Women in STEM
If you have young women with a passion to understand how vehicles work then we want to hear from them
Let us dispel the myths of what a day in the life of a technician looks like
Let us share the benefits of launching a career with a globally recognised brand
To speak with one of our team, call 01908 301496 or e:mail us at mb.apprentice.academy@daimler.com
---
Remit Group- Automotive Apprenticeships
Apollo Motor Group (Basingstoke) have committed to taking on one Apprentice at their Basingstoke location; RG24 8FW. They are particularly interested in taking an individual at the end of this academic year.
The apprenticeship opportunities they provide are:
Attached are some links and attachments regarding the opportunity:
https://remit.justapply.co.uk/5202572-apprentice_vehicle_panel_body_repair_technician_summer_2019_start.html
http://www.apollomotorgroup.com/
---
Bosch Automotive Apprenticeship Programme
We have already began to register a number of vacancies targeted to school leavers. If you have anybody who is looking to work in the Automotive Industry, they can apply online. We offer hands-on roles in the workshop, Motorcycle roles and also Customer Service roles
Below are the links to our websites which have more information about the apprenticeship.
Bosch: http://aa-boschcommon-web.resource.bosch.com/microsites/en/internet/apprenticeship_ww/startpage_1/overview_apprenticeship.html#
Suzuki: http://www.suzuki-apprenticetraining.com/
Renault: https://life.renault.co.uk/careers/dealer-apprenticeship-programmes/
IVECO: http://www.ivecotrucks-apprenticetraining.co.uk/
---
Briggs Equipment - Engineer Apprentice Program
Briggs Equipment are currently recruiting for their Engineering Apprentice Scheme starting in September 2019 and have a vacancy at the Maidenhead depot. If you are in Year 13 and are interested in a career in Engineering click here for more information.
Smith & Williamson
Smith & Williamson are recruiting apprentices to start their Level Business Tax, Private Client Tax Services and Audit Apprenticeships in September 2019.
Do you know any 18-24 year olds who would like to apply for this? Details are below.
Deadline for name/contact details of interest: Friday 8th February
Click here for more details.
KPMG360º Apprenticeship Programmes
The KPMG360° Apprenticeship programmes offer apprentices the opportunity to work with a variety of clients across different industries, whilst being supported to achieve a professional qualification and earning a salary.
Their range of programmes have been designed to support students with the transition from school to the workplace, offering a practical way to build an exciting career.
Apprentices will gain broad work experience, be supported to build professional skills grow their confidence, and build exceptional future too.
Hear what it's like to be an Apprentice at KPMG, from KPMG360° Apprentices Emma, Ihsan, Mark and Precious.
About KPMG
KPMG in the UK, is part of a global network of firms offering Audit, Tax & Pensions, Consulting, Deal Advisory and Technology services. We work shoulder-to-shoulder with clients, from small start-ups to multinational organisations, helping them to solve some of the most complex business challenges.
If you know ambitious students interested in an Apprenticeship Programme with KPMG, please direct them to find out more and apply via our careers website.
AIRBUS Engineering Degree Apprenticeship
Our Engineering Degree Apprenticeship offers a full degree with no fees, plus vocational training with a regular salary. The first of its kind in the UK, Airbus is leading the way with this unique 4 year programme through which you will achieve a BEng in Aerospace Engineering following the design pathway, and work towards a professional IEng level award.
In order to be eligible for this apprenticeship you must have a minimum of:
Two A Levels at grade B in Maths and C in Physics or Chemistry (or alternatively a BTEC Engineering Level 3 qualification at grade triple distinction; D* D* D*)
GCSE English Language at grade C or 4.
APPLY - http://company.airbus.com/careers/jobs-and-applications/search-for vacancies~jobid=001A4B0A914A1EE8B3AD24982BB54605~.html?utm_source=Indeed&utm_medium=organic&utm_campaign=Indeed
ERM Geospatial Mapping and Science Degree Apprenticeship
You will learn the discipline of interpreting and analysing geospatial data; use leading edge digital technology [such as laser scanning Geographic Information Systems, remote sensing and imagery] and provide data analysis and advice for mapping, satellite navigation systems (Satnavs) and Global Positioning Systems (GPS), a wide range of innovative technologies; to provide strategic advice and recommendations based on this analysis.
Applicants must have a minimum of three A levels at Grade C or higher.
APPLY - https://erm.wd3.myworkdayjobs.com/en-US/ERM_Careers/job/London/Geospatial-Mapping-and-Science-Degree-Apprentice--Entry-Level-_R00001558
---
BPP Professional Apprenticeships
Higher and Degree Apprenticeships
James Cowper Kreston- Chartered Accountants
KPMG Apprenticeship Programmes
Peter Brett Associates LLP Apprenticeships
West Berkshire Training Consortium
Learn Live Apprenticeship and Graduate video
Visit the Learn Live website here to view a wide range of videos relevant to apprenticeships and graduates.