Consultation and public engagement event
Public Engagement Event - 24 March 2022 from 16:30 to 19:30
Since the last round of consultation and engagement events, Maiden Erlegh Trust has selected Deanfield Homes as the developer to progress the residential proposals on land currently part of Maiden Erlegh Chiltern Edge, which is designated for new homes in the Sonning Common Neighbourhood Plan. As part of the terms of their appointment, Deanfield Homes are progressing the proposals in accordance with the key parameters previously agreed with both neighbours, the Neighbourhood Plan Group and the school.
The proposed residential development is located on land currently classed as 'playing field' land, identified in the red outline of the plan below. Therefore, alongside the residential proposals, the Trust is progressing a package of sport mitigation measures to address the reduction in playing field area and to improve the existing sporting facilities for students. These proposed works are currently being developed, and we are now seeking comments from the local community on both the school improvement works and the residential development.
An exhibition covering both the residential proposals and details of the sport mitigation measures will be undertaken jointly by Deanfield Homes and Maiden Erlegh Trust.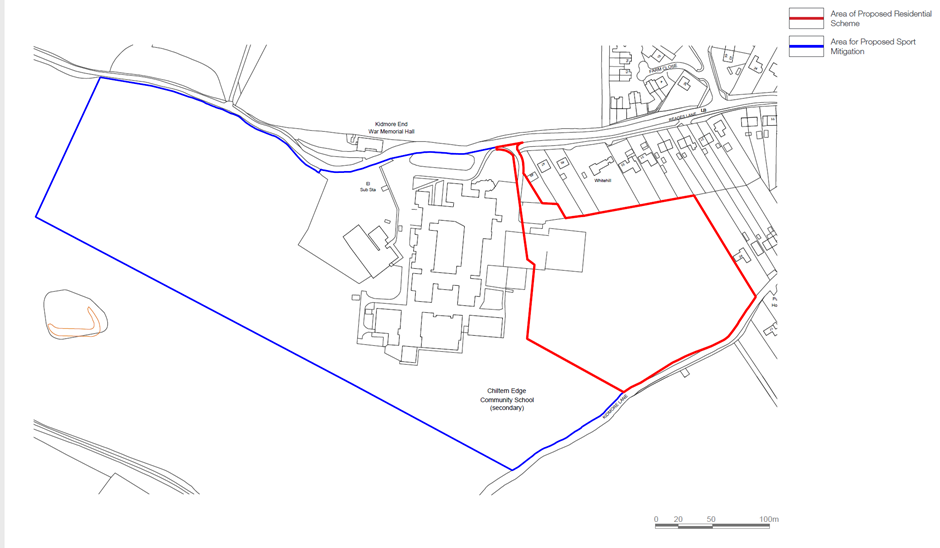 PLAN FOR IDENTIFICATION PURPOSES ONLY*
---
When: Thursday 24 March from 16:30 – 19:30
To be held at: Maiden Erlegh Chiltern Edge, Reades Lane, Sonning Common, Reading, Berkshire, RG4 9LN.
Details of the material to be shared at the exhibition will also be put onto the school webpages https://www.maidenerleghchilternedge.co.uk/ in advance of the exhibition to ensure anyone not able to attend has the opportunity to view and comment on this material.
---
How can you contribute?
Details of the consultation material and formal feedback forms can be found below.
We welcome any comments you may have on the proposals. Feedback forms should be emailed to ReadingPlanningComments@savills.com or postal forms can be mailed to:
Savills Planning, 5-6 Napier Court, Napier Road, Reading, RG1 8BW.
The deadline for comments is 14 April 2022. However, in the meantime if you have any queries, please contact Savills at either the above email or postal address.