Work Experience Opportunities
Work Experience Opportunity – RTPI
We have work experience placements available for two students from ages 16-18 years.
EXPLORE is a work experience pilot hosted by the RTPI, that introduces young people to town planning.
Targeting students aged 16 - 18 from BAME and underrepresented groups
Week long face-to-face placements in your area
Projects and webinars to join during the week
Certificate of participation
Bursaries available for travel and subsistence available (ask for details)
See attached leaflet (below) for more information.
If you are interested, please email Mrs Sandhu on mescareersdept@maidenerleghtrust.org clearly stating your name, tutor group and RTPI Work Experience Placement.
---
Easter – Law Work Experience with 6 Brands
This Easter, join 2 Magic Circle firms - Clifford Chance and Linklaters as well as Browne Jacobson, Freeths, Charles Russell Speechlys and specialist legal university the University of Law for work experience.
On Monday 11th April from 9:00am - 4:00pm we're bringing the best of the best legal firms and one of the UK's top universities for law together for what's set to provide an immersive and interactive experience of what it's like working for one of the world's top legal companies.
You'll get to hear and learn from senior legal professionals as they take us through a number of practical workshops, activities and presentations.
This is without a doubt the biggest virtual law work experience to be put together for school/college students so if you're interested in a career in law make sure to take advantage of this opportunity!
This is a tremendous chance to hear from some of the most distinguished law companies whilst getting your foot in the door to key decision-makers at these firms. Get an insight into the life of a legal professional, hear what it takes to thrive and be successful, gain application tips and tricks and ask all your questions to our panel of industry experts.
As it's a work experience opportunity we'll also be awarding certificates of completion for you to add to your CV.
Sign up using the link below: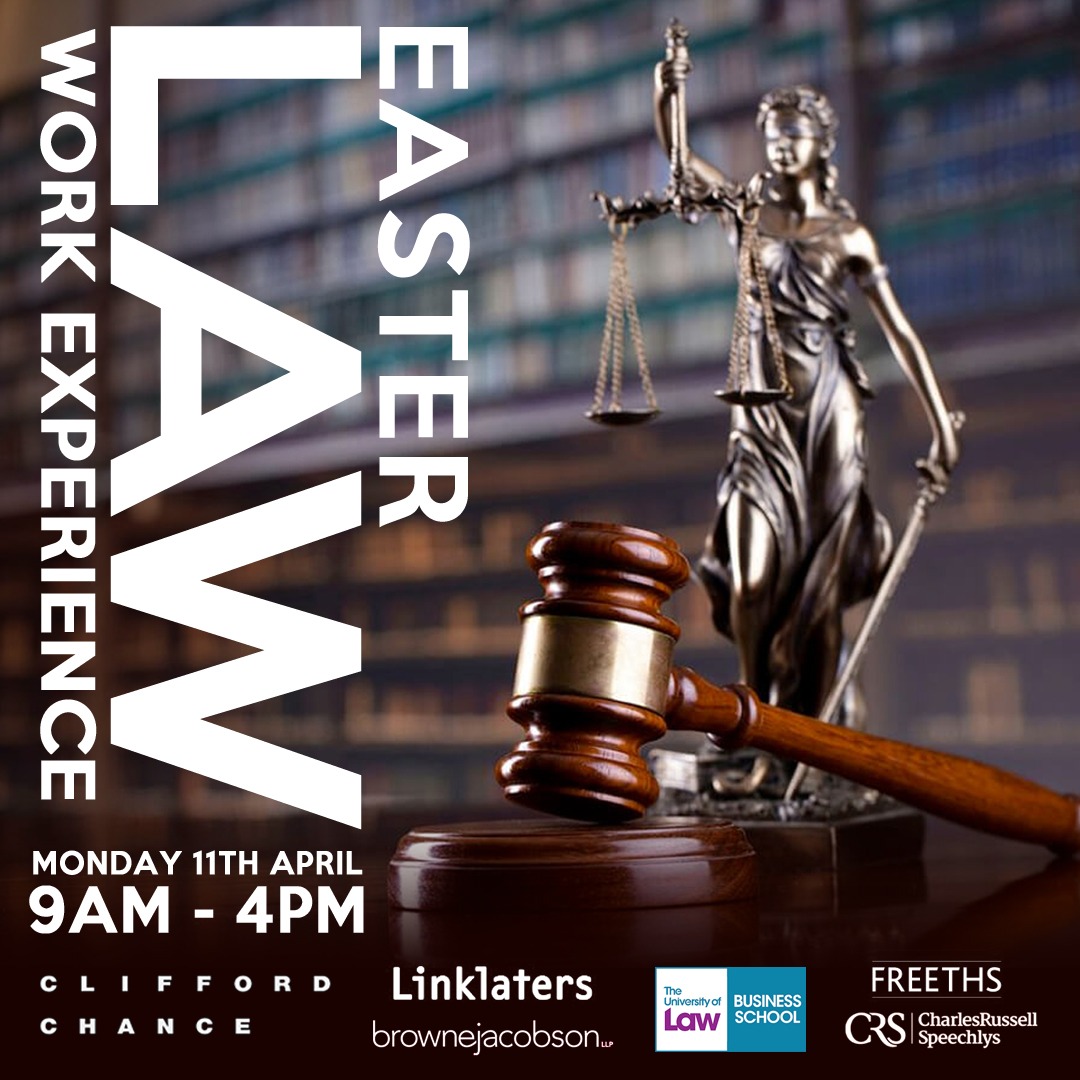 ---
Summer Medical Work Experience – 15 July 2021
Sign up for medical work experience this summer — with Ward Round Live.
You will be able to speak to patients, learn from NHS Doctors, experience a wide range of medical cases and make a head start on your university applications on our Ward Round Live course this summer.
Registration link: www.educationprojects.co.uk/medical-projects/ward-round-live/
---
GSK Virtual Work Experience — Thursday 01 July 09:00 – 16:00
Have you ever considered a career in the world of pharmaceuticals? On Thursday 1st July 9:00 – 16:00 GSK will be hosting their Virtual Summer Work Experience Day to which you're invited.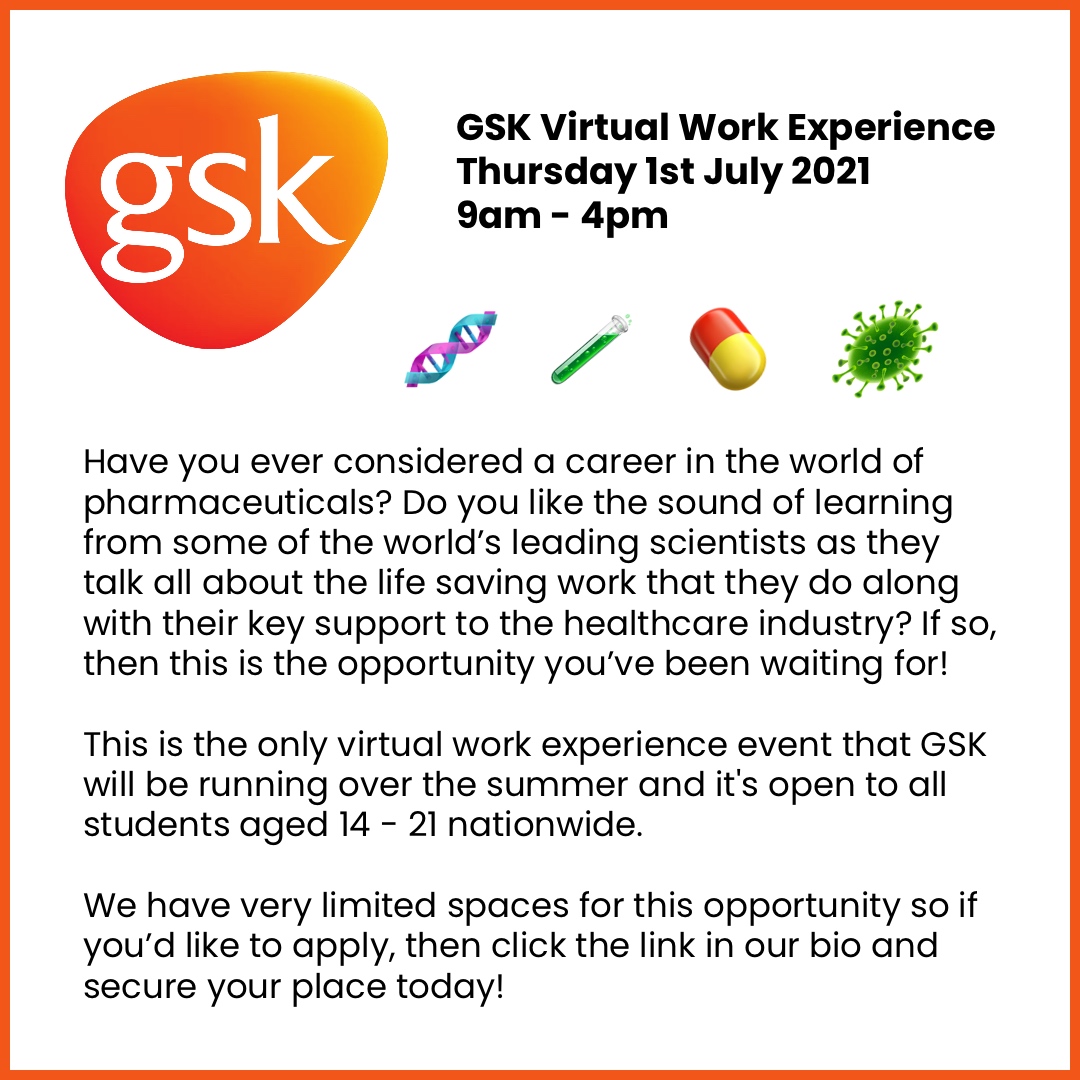 This is the only event GSK will be running over the summer so if you like the sound of learning from some of the world's leading scientists as they talk all about the pharmaceuticals and healthcare industry then this is the opportunity you've been waiting for!
The online event is open to: Y10 / S3, Y11 / S4, Y12 / S5, Y13 / S6 & Y14.
GSK is a science-led global healthcare company with a special purpose: to help people do more, feel better, live longer. "Turning that purpose into reality starts with our employee experience, because we know when we feel at our best, we perform at our best."
If you'd like to apply to this exclusive event, please click on the registration link below.
---
National Grid — Year 12/13 Virtual Work Experience: 5th — 9th July 2021
National Grid, one of the world's largest energy companies, would like to offer Y12/13 students a week of simulated virtual work experience. In these uncertain times we believe it's essential to not lose sight of opportunities
The work experience provides amazing insights into the energy sector, an industry that is required to fill 400,000 roles by 2050 to help the UK reach its Net Zero target! National Grid is a company that is truly impacting the lives of millions of people around the country, ensuring the energy we use is clean and renewable.
What is National Grid Virtual Work Experience?
Manage an exciting and challenging 5-day digital project*
Blended approach combining live sessions with static learning content including quizzes & videos.
Develop key workplace skills (presentation skills, project management & employability skills)
Network with STEM industry role models and attend panel discussions / Q&A sessions
Insight into a range of STEM careers and receive developmental feedback
*Prize winning students will have the chance to visit a National Grid site, have a behind the scenes tour and meet staff working on the London Power Tunnels project. This will take place in September 2021.
Who can take part?
Y12/13 students interested in sustainability, the environment, renewable energy, STEM or project management.
When and where?
Monday 5th July- Friday 9th July: 10am-3pm
Work experience will be hosted online. There will be 2 hours of live content each day, with the remaining time exploring learning content and working on the project with the support of digital mentors.
How do students apply?
Students interested in participating in the five day virtual work experience can apply here. Students will need to fill in a short application form and provide key information. Click the link below & sign up in order to apply for virtual work experience. Once applications are received, we will confirm with students details for July and send over key joining instructions. Students of all abilities are welcome! Deadline is Friday 11th June 2021.
---
EY Foundation — Paid Work Experience
The EY Foundation is an independent charity founded by the professional services firm, EY (Ernst & Young). Every year we deliver a paid summer work experience programme for Year 12 students, called Smart Futures
Smart Futures is a 2 week paid employability training and work experience programme. Students will gain a variety of transferable skills that will give them a head start in their career and support their transition into work and further education.
As part of the programme young people are allocated a business mentor to support them throughout their final year at school/college and advise them on one of the biggest career choices they will make - the first step in their working life. Students will also be invited to a series of alumni events throughout this time. The programme aims to support young people from low income families who have a good level of academic attainment but may lack genuine opportunity and key employability skills. Below is the key eligibility criteria for the programme and I have also attached a brochure:
► Currently in Year 12
► Eligible (not necessarily claiming) free school meals at any time in the last two years, or eligible for a college bursary
► Studying any combination of A-level/International Baccalaureate/BTEC Level 3s/National 5/Highers
► Ambitious and motivated to join the world of work
Students can apply via our website by clciking on the link below and selecting 'Apply now'.
---

Pearson Business School — Virtual Work Experience 7th & 8th July
You're invited to our Virtual Work Experience! We all know about the Catch 22 surrounding work experience. To get experience you need a job, but you need a job to get experience.
Pearson Business School have the answer to break you out of this loop - our brand new, FREE, Virtual Work Experience event.
Dates: 7th — 8th July
Location: Live online
Time: 12PM — 4PM
Cost: Free
Book here - https://www.pearsoncollegelondon.ac.uk/pearson-business-school/visit-us/events/virtual-work-experience.html?utm_source=pbs_careermapsteacher&utm_medium=email&utm_content=virtualworkexperience2021_launch_teacheremail
How will it benefit me?
This 2-day virtual work experience is the perfect opportunity for you to boost your employability and start to expand your professional network.
Meet industry professionals from the likes of IBM, L'Oréal, Bloomberg and the BBC. They will share their own experiences of breaking into the world of work and let you in on the skills they needed to succeed in their careers.
Check out the programme...
Wednesday 7th July
Get to know industry experts from Bloomberg, IBM, L'Oréal and Pearson College London, as they discuss their roles and offer an insight into some different industries.
Discover the world of LinkedIn.
Find out about our new work experience platform 'Bubl'.
Thursday 8th July
Further industry insights from the BBC and IBM providing different perspectives from various roles and types of companies.
A discussion surrounding what employers look for, the skills required and so much more...
---

The Young Professionals Virtual Work Experience is back running across 7th, 8th & 9th June. We have PwC, Sky, HSBC, GSK, RAF and many others joining us during the three days. We will be running skills based sessions (looking at CV's, Interviews, Assessment Centres, LinkedIn / Networking etc...) along with employer insight / workshop sessions. There will be 2 individual based projects students will be set to work on in their own time (out of school hours) which will form part of their Virtual Work Experience interactive tasks.

Key Details:
7th, 8th & 9th June 9am - 3pm each day
Open to all students in school / college (in particular those that will have left after half term)
An opportunity to take part in skills based workshops as well as interaction with multiple global employers
2 project based activities to be completed whilst on program
To explore lot's of different employment sectors as well as gaining a better understanding on the job market, world of work and key skills employers look for
Certificate and reference on completion
Application Link:
https://www.surveymonkey.co.uk/r/YP-Virtual-WEX
---
Virtual Insight Event Explore BDO — Thursday 3rd June 6pm — 7pm
Come along and network with the BDO team and get your foot in the door! If you are interested in joining their work experience programme, Explore BDO, you can hear more about what to expect on the programme and how to apply.

Sign up: https://www.eventbrite.co.uk/e/155960348601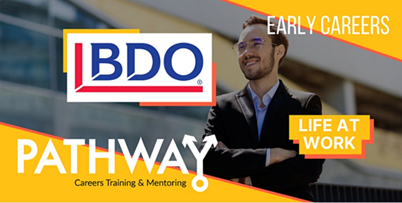 ---
Sky Virtual Work Experience — Wednesday 02 June 2021
Come behind the scenes at Sky and see what it's like to work at Europe's biggest entertainment brand
An opportunity to see the different departments they have from Tech, to TV Production to Customer Service!
Learn from leading industry professionals and take part in some projects / workshops designed by Sky
Sky offers top quality shows. Innovative tech. Must-have packages. With 24 million customers across
six countries! Be part of it all!
Career opportunities nationwide in; Business, Technology, Digital Marketing, Finance, Technical
Engineering & Customer Services
Open to all students 16 – 18 (Y11 / S3 & 6th Form)
An opportunity to be fast tracked to an in person event at the Sky offices when the time is right and safe to do so
Application Link:
https://www.surveymonkey.co.uk/r/Sky-VWEX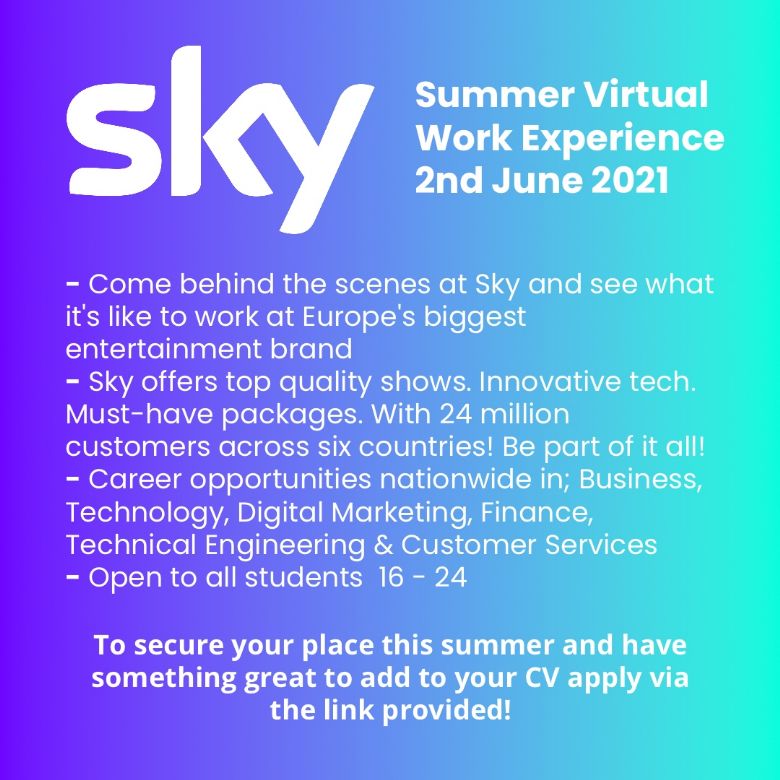 If you are interested and would like the opportunity please do book on ASAP as we do have very limited spaces.
---
IBM Virtual Work Experience - Friday 07 May | 10am - 3pm
At our virtual IBM work experience, you will get a chance to hear from the IBM Team and understand more about their competitive careers that are open for applications!

Sign up: https://www.eventbrite.co.uk/e/150746927117
---
Thames Water & Speakers for Schools – Green Skills Week
Applications close on 7 March for a one day work experience with Thames Water for environmental roles. The work experience would take place on 7 April.
If interested, please email the school office mesoffice@maidenerleghtrust.org for the attention of Mrs M Sandhu, as the school will have to register before you can apply.
Further information can be viewed here: https://www.greenskillsweek.org/placements
---
Pathways to Property Summer School
Now in its eighth year, the Summer School is a fully funded, 4 day residential programme at the University of Reading for Year 12 students. During the week, students will attend taster lectures, go on site visits, take part in a group project and debate, learn to network with key employers in the industry and experience life on a University campus. All individuals will be provided free accommodation and food and their travel expenses to Reading will be covered. At the end of the week, if they are keen to learn more about property they can complete a funded work experience placement over October half term, have access to our e-mentoring programme, and if they choose to apply to study Real Estate and Planning at the University, can apply for a bursary up to £30,000 over three years. To date, over 600 students have attended the Summer School and 25% of these have chosen to pursue a career in property – either through studying a property related degree at University or completing a property related apprenticeship.
APPLICATIONS FOR THE SUMMER SCHOOL ARE NOW OPEN! The 2020 Summer School will take place from 20-23 July at Henley Business School, University of Reading. Please visit https://www.henley.ac.uk/alumni/support-henley/pathways-to-property for more information.
HSBC Work Experience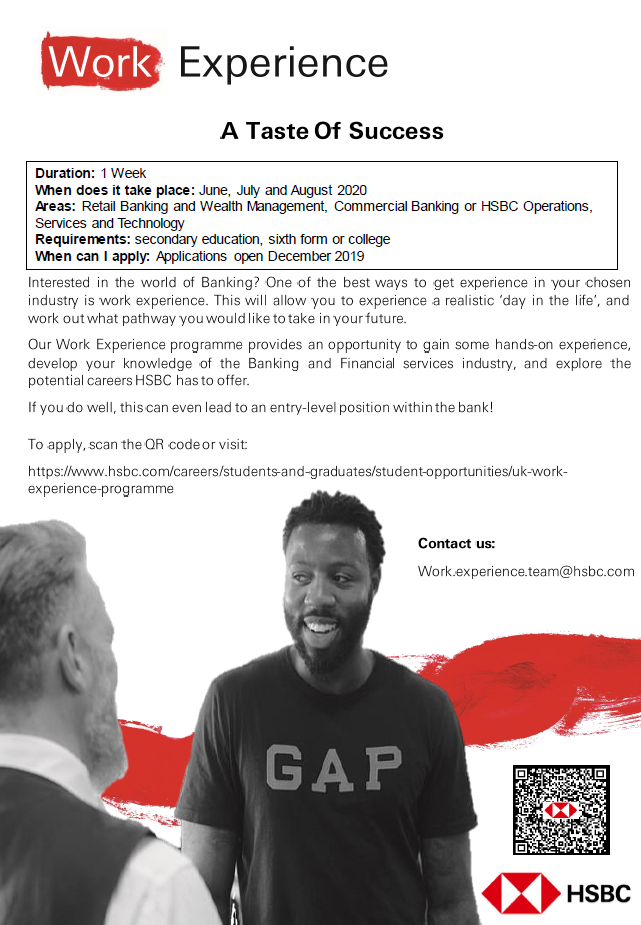 Berkshire Physiotherapy
Berkshire Physiotherapy are welcoming applicants for students in Year 12 & 13 for work experience placements. Each placement would be for 1 week, with a clearly defined role for that time.
Covering letters and CVs can be emailed to Carol Adkins, Director at info@berkshirephysio.co.uk.
https://berkshirephysio.co.uk/
Dentistry at The London School of Dentistry
The London School of Dentistry is running a 2-day taster course for year 11-13 students who aspire to study dentistry at university. The course provides students with a realistic experience of life at dental school by integrating a seminar style approach with a combination of key practical clinical exercises.
Date: January 11 to 12 2020
Time: 9.30am-4pm (both days)
Venue: University of East London (Stratford)
Price: £120 (inclusive of both days)
Please visit www.londonschoolofdentistry.co.uk to apply and for more details and testimonials.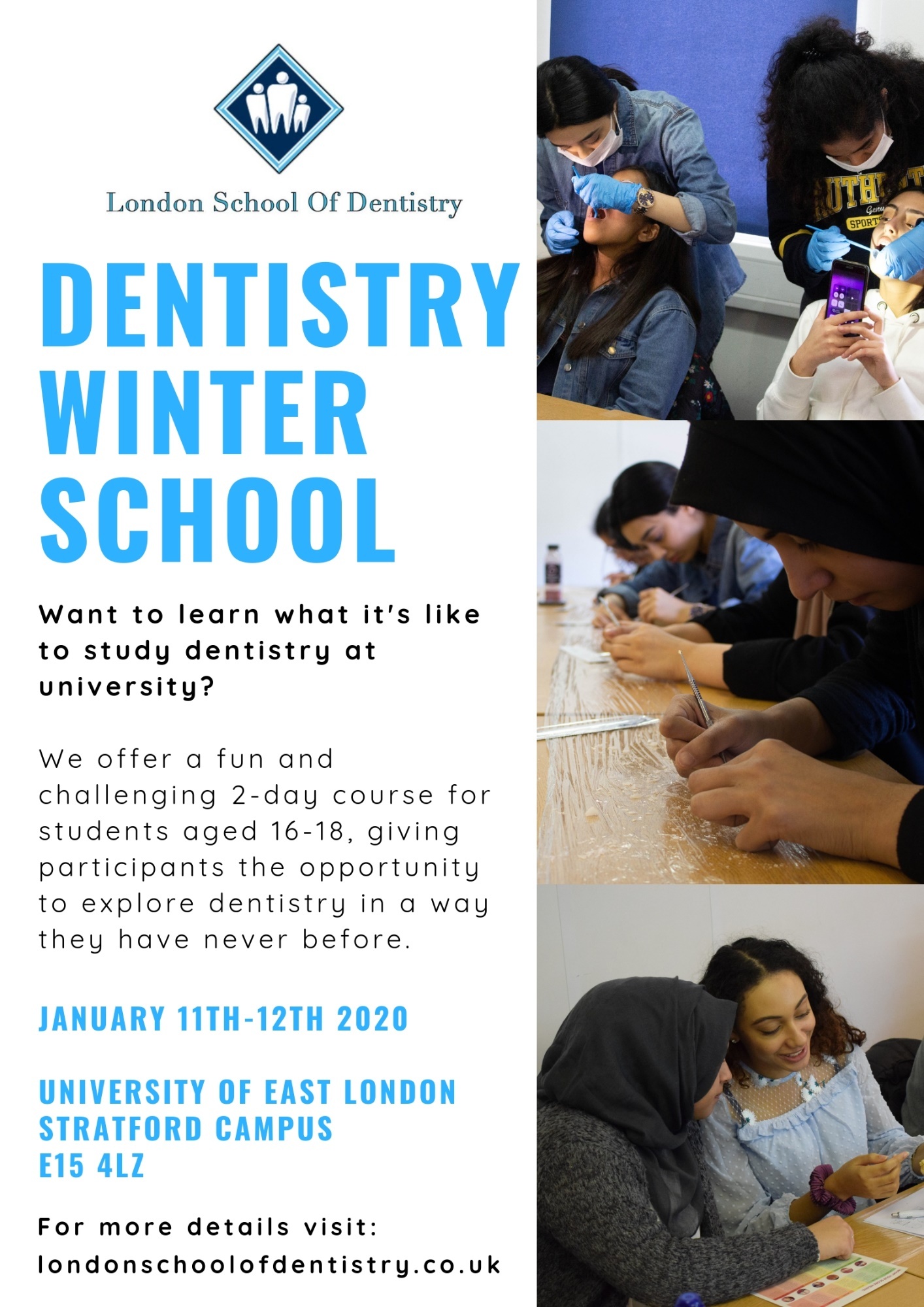 ---
Diamond Light Source - Work Experience - July 2020
Diamond Light Source runs an annual schools work experience programme, offering a limited number of placements to students in years 11, 12 and 13. The placements take place over a specific week, typically in July. Applications for 2020 will open in mid-December 2019 and close at the end of January 2020. Please visit the website below to apply.
https://www.diamond.ac.uk/Careers/Students/Schools-Work-Experience.html
The programme gives students the chance to come and work at one of the UK's leading science facilities for a week. Initially students will receive a day's introduction to Diamond, covering all areas of Diamond and a look around the facility to see first hand how it operates. The main element of the week will be a three day project in a specific area, which students will complete and then present to their peers and other visitors on the final day (friends and family welcome). There will also be a chance to get involved in group activities and time to meet their peers and Diamond staff.
Applicants need to apply for specific projects, see the website for the projects and details of the application process.
The placements are aimed at students in years 11-13 (typically 14-18 years old), although part of the aim of the placement is to give guidance towards further careers or study, so students who have secured a higher education place are less likely to be offered a work experience placement (usually year 13 students).
Please be aware students will be expected to work a full day (9am-5pm) and it is their responsibility to make any travel/accommodation requirements (if accommodation is required we can offer some suggestions).
Students may apply for as many different projects as they wish. The projects are described on the website. To apply please visit the website https://www.diamond.ac.uk/Careers/Students/Schools-Work-Experience.html
---
HSBC Work Experience Programme - For Year 12 and 13 students
For further information on the programmes please see their main page here: http://www.hsbc.com/careers/students-and-graduates/programmes/uk-work-experience-programme.
---
Starmaker Costume Hire
We are looking for a work experience / or day release placement for a young person. We are a Theatre Costume Hire Store in Swallowfield. We are part of the charity called "Starmaker" who are a local drama charity working in schools. Please see Mr Buck for more information.
---
Years 10 – 13: Work Experience Opportunity at a Particle Accelerator near Didcot.
We have received details about a work experience opportunity at the Diamond light source particle accelerator near Didcot. This is open to all students studying GCSEs and A-levels, but is particularly suitable to anyone considering a future career in Physics, Engineering, Biochemistry or Computer Science. See the diamond light source website, or speak with Mr Bell for more details. This is a highly competitive, yet potentially rewarding, opportunity.
---