CareerS Events
Please find below events for a range of careers.
---
'Success Beyond School' -Thursday 10 December 2020, 'Live Online'
We are delighted to announce InvestIN's very first careers evening for parents.
Parents can register now to gain insider knowledge from top recruitment experts on how to guide their children towards a successful career. The event is free-of-charge and for parents of students aged 12-18.
InvestIN provides students aged 12-18 with immersive work experience in some of the world's most competitive and desirable careers - medicine, law, engineering, investment banking and more. More than 40,000 students from 81 different countries have attended an InvestIN programme.

You are cordially invited to our free-of-charge, 'Live Online' event for parents aged 12-18. You will hear our expert panel share their knowledge on:
Why your child's career starts at school
The most in-demand skills top employers are looking for, and how to get themsss
The role you can play in helping them achieve their aims
Guidance on work experience, interview techniques, LinkedIn profiles and m ore
Date: Thursday 10 December 2020
Time: 19.30 - 21.00 (GMT)
Register here https://investin.org/pages/registration?mc_cid=9b2661fdd1&mc_eid=1cadfdead6
View the programmes available here https://investin.org/collections/all?mc_cid=9b2661fdd1&mc_eid=1cadfdead6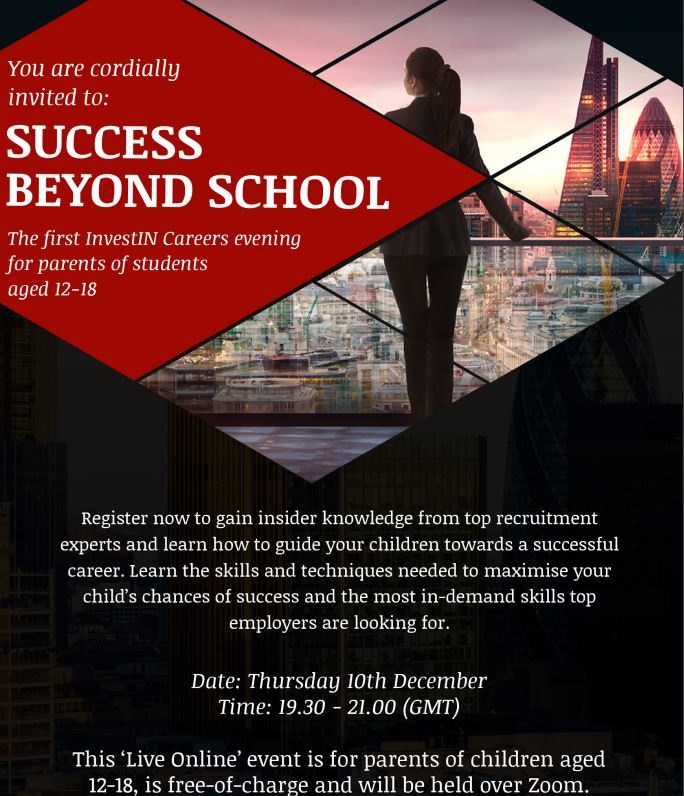 ---
'Tri Service' Virtual Live Careers Presentation
This important and informative live link will feature The Royal Navy, The British Army and The Royal Air Force. You are invited to watch on www.learnliveuk.com for a Careers information day on Thursday 5 November starting at 10:00 hrs. You can also leave a question in the 24/7 live chat.
---
Virtual Law Discovery Day - Friday 30th October 2020 1pm to 4.30pm
Are you interested in a career in law and becoming a barrister? Then sign up for our free upcoming online Discovery Day!
The Inner temple are pleased to host another Discovery Day for Schools - taking place online on Friday 30th October 1-4.30pm, and including:
Q&A panel discussion on progression to and life at the Bar
Interactive workshop looking at a variety of legal exercises to give you an insight into being a barrister
It's a brilliant opportunity to learn from professionals in the industry, and ask the burning questions you have on the realities of being a barrister.
All places for this day are free, and it will be held online via Zoom.
Sign up here: https://innertemple.typeform.com/to/POXLRwmF