Interested in Governance?
The Trust are actively recruiting for Local Advisory Board members (LAB) to provide support, challenge and critical friendship to our organisation. If you feel this is something you would like to become involved in, we would be delighted to hear from you.
OUR CURRENT VACANCIES CAN BE FOUND BELOW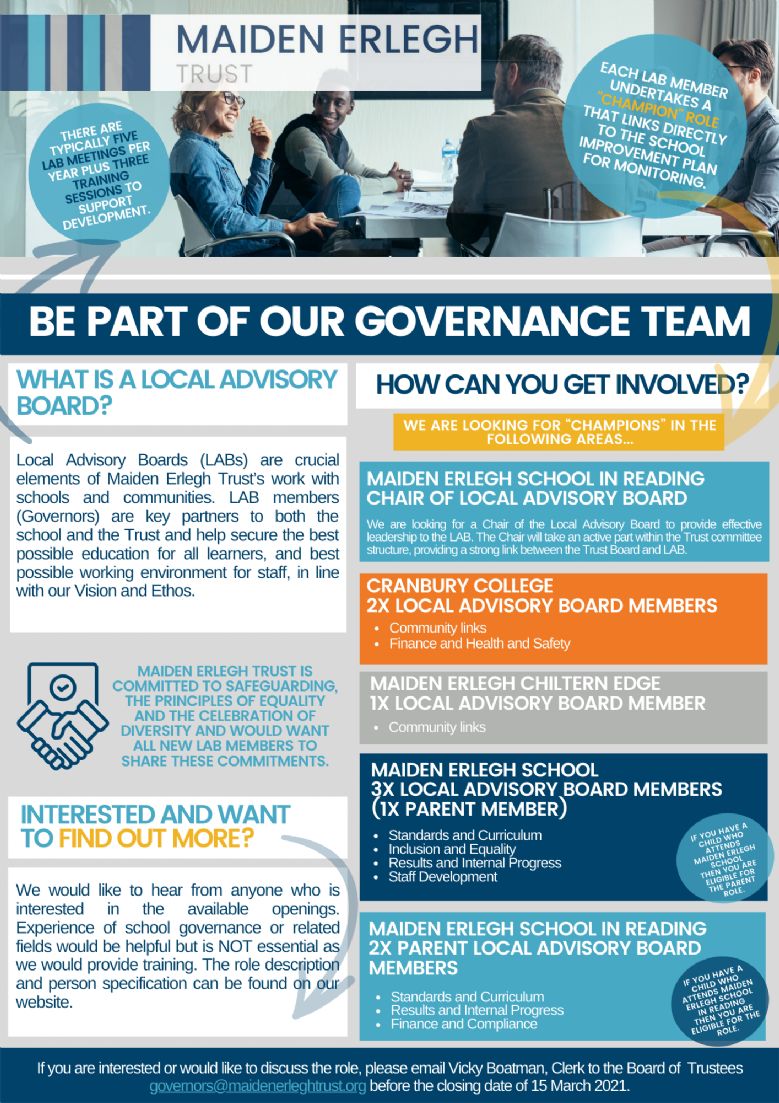 Role and person specifications can be found at the bottom of this page. You can also find out more about our governance arrangements here.
We would also welcome any interest in the role of Member or Trustee. Roles are specified below and if you would like further details please contact Mrs Victoria Boatman, Clerk to the Board of Trustees trustees@maidenerleghtrust.org.
What is the role of a Member?
As charitable companies limited by guarantee every trust has members who have a similar role to the shareholders of a company limited by shares. They:
are the subscribers to the trust's memorandum of association (where they are founding members)
may amend the articles of association subject to any restrictions in the articles, the funding agreement or charity law
may, in certain circumstances, appoint new members or remove existing members
have powers to appoint and remove trustees in certain circumstances
may, by special resolution, issue direction to the trustees to take a specific action
appoint the trust's auditors and receive the trust's audited annual accounts (subject to the Companies Act)
have power to change the name of the company and, ultimately, wind up the academy trust
What is the role of a Trustee?
The trustees of the academy trust are both charity trustees and company directors.
The trustees should focus on the three core functions of governance:
ensuring clarity of vision, ethos and strategic direction
holding executive leaders to account for the educational performance of the organisation and its pupils, and the performance management of staff
overseeing and ensuring effective financial performance.
The trustees must apply the highest standards of governance and take full ownership of their duties. They must comply with the trust's charitable objects, with company and charity law, and with their funding agreement.